When fall rolls around, I'm one of those people who loves to shout it from the rooftops.
There are so many amazing fall family activities! So many pumpkins recipes to make! Apple pies to bake! Leaf crafts to create! There's just no other season where I feel so connected to both my family and with nature.
And so many fall family activities are amazing teaching opportunities!
I started making a list of all the fall family activities I wanted to do this year. And while I know we won't get to all of these, I love having a master list of amazing fall family activities to choose from!
And I thought… perhaps you'd like to take a peek?
I've divided the list into the following categories:
General Crafts and Art
Apple Crafts
Pumpkin Crafts
Classroom Teaching Activities
Outdoor Activities or Field Trips
So without further ado… here's the amazing list! Enjoy and pick a few off here to try yourself!
Fall Family Activities: Crafts, Art and Decor
1) Make an Owl Wreath from Country Living
2) Learn How to Paint Acorns from Home Stories A to Z
3) Make Homemade Pinecone Bird Feeders from Freebie Finding Mom
4) Happiness Is Homemade has another great Pinecone Birdfeeder here.
5) I love this Candy Corn Button Art from Repeat Crafter Me.
6) Dirt and Boogers has a really simple way to create leaf art: Using cookie cutters! Genius!
7) Here's a craft that combines cooking and art: DIY Cookie Leaf Wreath Project from Country Living.
8) I'm totally excited about this post I did on how to create Seasonal Picture Frames. The post includes links to 30 free fall printables!
9) They made some amazing art out of leaves at this Leaf Crafts post from Country Living. Love!
10) Oh, how I love this Real Leaf Project art piece from Just a Girl Blog!
11) These Embroidery Hoop Suncatchers from Buzzmills are a fun way to showcase leaves.
12) What a cool idea from Tiny Rotten Peanuts: Make a mosaic art piece using beans! Cute!
13) This Paper Plate Owl from Huppie Mama is simply adorable.
14) Now this is creative: A fall wind chime out of all those acorns and cool rocks from The Benson Street.
15) These Fall Leaf Art Prints from Meaningful Mama are a unique way to combine paint and fallen leaves.
16) I dig this DIY Autumn Leaf Bowl from Hello Lucky! Whoa!
17) Use shaving cream to create leaves with a cool marbled effect with this tutorial from Teaching with TLC.
18) Salt Dough Leaf Prints from That Artist Woman! Why didn't I think of this?
19) This Fall Leaf Printing art project from 123 Homeschool 4 Me uses markers and fall leaves to create unique art.
20) I love this Q-Tip Fall Tree from Mess for Less because I'm pretty sure that I'll almost always have the art supplies for this craft on hand!
21) These Bark Owls from Fireflies and Mud Pies look pretty impressive! Wow!
22) I am a sucker for banners… and I'm sold on the idea of this Book and Leaf Garland Banner from Simple as That.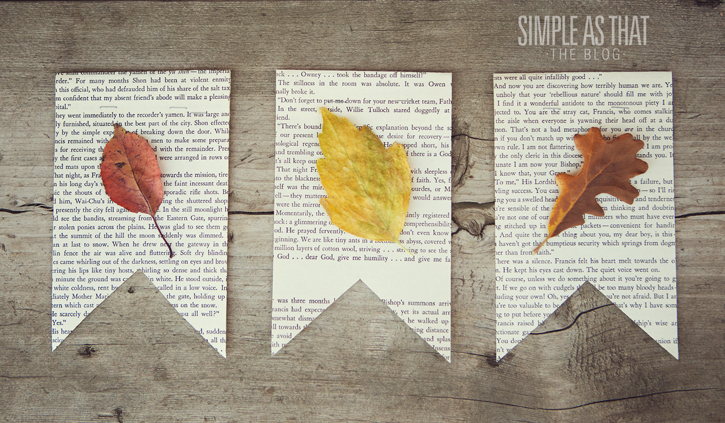 23) Speaking of banners… the kids and I made a super fun Fall Banner from found items from a nature walk. We made animals out of the acorns, leaves and such! Check it out here.
Fall Family Activities: Apple Crafts and Recipes
24) I just want to be in the room when my kids are playing with this Sensory Play Applesauce Dough from Still Playing School! The smell must be heavenly!
25) Apple picking is always one of my favorite fun fall family activities! Premeditated Leftovers shares her tips here.
26) After your apple picking, come home and make Creative Homekeeper's Oh-So-Easy Apple Chips. Yum!
27)… or this fantastic (and healthy!) Pecan, Chicken and Green Apple Salad from Num's the Word.
28) And don't miss my super awesome Crock Pot Oatmeal with Apples. My kids (and my husband) lick the bowl clean when we serve this. Seriously!
29) This Apple Coffee Filter craft from Gift of Curiosity looks super fun for the young elementary set.
30) Check out this apple-themed Alphabet Handprint Art from Mommy Minutes! Handprint art is always a hit with kids (and if you're especially inspired, she's got the whole alphabet here!).
31) Creative Savings Blog shares a fall classic comfort food (and my husband's favorite dessert): Apple Crisp!
32) The Kitchn gives us the how-to on Glazed Apple Fritters. Oh my word… say no more.
33) Take a mom break and drink your Carmel Apple Cider from O Taste and See while watching the kids play in the leaves outside.
34) What a fun Apple Print Wreath from No Time for Flashcards!
35) This Secrets of the Apple Tree book is unique because kids shine a light behind the pages and extra pictures appear! My kids LOVE the other books in this series. And did I mention you can get this book for FREE?
Fall Family Activities: Pumpkin Crafts and Recipes
36) Here's a simple but fun pumpkin art craft from Hanging by a Silver Lining made out of craft sticks!
37) Pumpkins hanging from the ceiling? But of course with these Paper Pumpkin Ornaments from Hostess with the Mostess.
38) Ooooh… Melted Crayon Pumpkins! My kids would really go for this activity from Crafty Morning!
39) Oh how adorable these pumpkins are… and they're made of toilet paper rolls! A great idea from Living Chic on the Cheap!
40) Love these Tangled Pumpkin Ornaments from I Can Teach My Child! A fun use of glue and yarn!
41) What a fun 3-D craft project: A Paper Bag Fall Tree from Pikadilly Charm!
42) Leaf rubbing is a classic fall activity. But I love how Filth Wizardry has her kids rub leaves on a long mural!
43) Being Confident Of This shares a unique, fall-themed way to share the Gospel: the Pumpkin Gospel!
44) We made these Paleo Pumpkin Muffins with Ginger and Orange last weekend and they were to-die-for! You've got to check out this scrumptious dairy, gluten and grain-free recipe!
45) Ohhhh… pumpkin cheesecake is one of my favorite fall desserts ever! This recipe from Natasha's Kitchen is making me drool.
46) Or maybe we'll make these Pumpkin-Oat Chocolate Chip Cookies from Cooking Classy. Oh my.
47) I recently discovered an awesome way to create Paleo-friendly coffee creamer. And the pumpkin spice creamer (one of 4 Paleo Fall Creamer Recipes) is my favorite this time of year! You've got to check out these dairy-free and gluten-free coffee creamers!
48) And come on… I can't stand the cuteness of these Easy Pumpkin Krispies Treats from Yummy Healthy Easy!
49) You gals know I'm all about the Dollar Store… Debbie-Coos shares some adorable pumpkin crafts made from Dollar Store items.
Fall Family Activities: Classroom Teaching Activities
50) This Fall Button Tree from Hands On As We Grow is a perfect quiet time activity for preschoolers.
51) Here's another great quiet activity for little ones: pressing leaves into Play Dough (from Learn Play Imagine).
52) This was an amazingly simple (and fun!) preschool project my son and I did last week. We made a Fall Leaf Wreath, and we learned about shapes and colors while making it! I loved it so much it's now part of our fall decor!
53) The Educators Spin On It has a great day-by-day schedule of fall activities for toddlers! Check it out!
54) Love these 30 Free Fall-Themed Journal prompts for September from Life Over C's!
55) There are lots of learning ideas found in these Fall Math & Literacy Lessons for Kindergarten pages found at Teachers Pay Teachers.
56) Whoa! This Fall Math and Literacy Packet from The Moffatt Girls is packed with printable goodness!
57) Here are some great fall-inspired speech and language therapy activities from The Speech Room News.
58) My preschooler loves his Playdough mats! And these ones from Totschooling are fall themed!
59) Discover why leaves change color with this activity from Education.com
60) These Outdoor Acorn Math Activities from Living Montessori Now are fun and educational. So many ideas here!
61) Leaf threading a great fine motor skill for preschoolers. Check out this tutorial from Here Come the Girls.
62) Wildflower Ramblings has a free printable here for identifying leaves. Sweet!
63) Speaking of sweet… No Time for Flashcards' Candy Corn Math is perfect for my sweet-toothed daughter.
64) And BabyCentre Blog's fall-themed Toddler Treasure Hunt Photoshoot is a fun new way to teach colors.
Fall Family Activities: Outdoor Activities
66) This simple Fall Leaf Wreath from Crafts for All Seasons would be great to put together after a nature walk.
66) These Autumn Bird Feeders from Sustainablog made from milk cartons are adorable!
67) I'm totally going to plan an outdoor date night with my hubby after reading these Easy Fall Picnic Ideas from Design, Dining + Diapers.
68) Savor the season by taking a professional fall-themed family photo. These ideas on colors and clothing from a San Antonio Family Photographer are gorgeous.
69) Why not plan a nature walk every day for a week and focus on a new theme each day? Nurture Store shares how to do it here.
70) While on your walk, you can collect sticks for your Thankful Tree. Balancing Beauty & Bedlam has a beautiful one here.
71) This looks like a great book to inspire outside time: Fifteen Minutes Outside: 365 Ways to Get Out of the House and Connect With Your Kids!
72-77) Speaking of books, snuggle up under a cozy blanket outside and read one of these great fall books for kids:
78) I wish we lived closer to one of these amazing corn mazes… we'd go for a visit! Do you live close by to one?
And here are a few more that I found!
79) How fun! Love Creative Homekeeper's idea of investing in some small kid-sized rakes and raking the leaves together into a big pile to jump in!
80) And, finally, maybe I'll store all of these ideas in this creative Fall/Autumn Bored Jar! We can just pick a few pieces of paper at the beginning of the week and go for these projects!
Can't get enough Fall Family Activities? Check out my Pinterest Board:
Don't miss reader-favorite fall post: 42+ Thanksgiving Crafts, Books, Printables and Activities That Teach Kids Thankfulness
Your Turn:
Wow!! What a list!! Which ideas were the most inspiring or innovative to you? Which can you not wait to try?!
Share in the comments below!
Alicia Michelle, author, speaker and the owner/editor of YourVibrantFamily.com, is passionate about helping women discover their beautifully imperfect journey through parenting, marriage, healthy living, homeschooling, faith and homemaking. She's also happily married homeschool mom of four curious and amazing kids who keep her on her toes! Alicia is also the author of "Plan to Be Flexible", Back to School Survival Manual  and the creator/producer of Your Vibrant Family's online video courses "7 Days to a Less Angry Mom,""bloom" and "rhythm" along with Your Vibrant Family printables. In addition, she is a monthly contributor for several popular family blogs, including Crosswalk.com. Follow her on Facebook, Twitter, Instagram, Pinterest and Periscope as she shares her own journey through homeschooling, mothering, and being a wife and a daughter of God, one day at a time.